Brand
ARJES
About ARJES
The company ARJES, well known for their double-shaft shredding machines, is one of the world's leading suppliers of exceptional shredder with extremely high mobility way ahead of its competition. Combined with the spirit of innovation, radiated by all our employees, our products are flagships for strong and steady growth as well as economic success.
Fields of Application
Green Waste: organic matter produced or resulting of plants and animals, like tree branches, rootstocks, stem wood and garden waste etc.
Industrial Waste: domestic and industrial waste like tyres, mattresses, carpets, plastics, big packs, paper and cardboard etc.
Scrap Metal: car bodies, engine blocks and aluminium rims etc.
C&D Debris: mixed construction waste, asphalt, concrete and tiles etc.
IMPAKTOR 250 EVO
Impaktor 250 EVO is a slow-speed two-shaft shredder with a revolutionary quick-change shaft system. The new system expands the range of application of the shredder. The compact size and light weight leads to high mobility and agility.
Features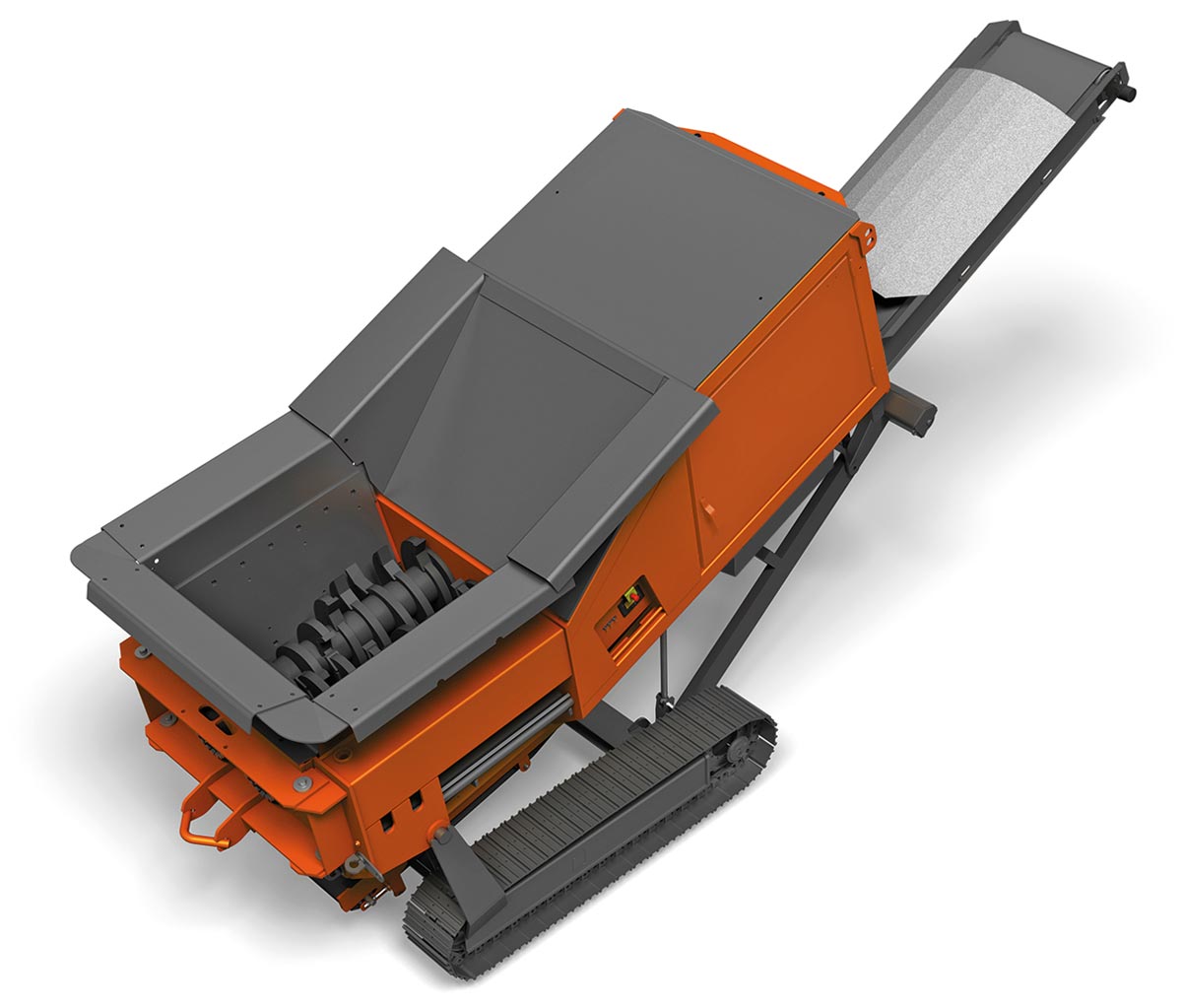 Powerful and efficient: It can shred loads of various materials in a short time due to its large material hopper and the power engine.
High mobility: The compact dimensions and low weight (13.5 tons) allows it to be transported by hooklift truck or low loader.
High agility: The Track system guarantees it to move smoothly in the rough and difficult terrain
Revolutionary shaft quick-change system: The quick replacement of shaft reduces downtime and facilitates maintenance of the shredder
Remote control: Controlling the shredder remotely makes it user-friendly and ensures the safety of users
Discharge belt: Conveyor belt for efficient material discharge up to 3.4m height
Mechanically adjustable side combs: User can adjust the side comb to regulate the final output and throughput capacity.
(Optional) Magnet: Strong permanent magnet for effective metal separation
Specification
Dimensions
Version
Track system
Length (mm)
6700/7500(Transport)
Width (mm)
2300/2300(Transport)
Height (mm)
3500/2800(Transport)
Total Weight (kg)
13500

Drive
Engine
Volvo Penta TAD 572VE│552VE
Emission Standard
EU stage IV/EPA Tier 4/EPA Tier 3A
Power (kW/PS)
160/220
Fuel Capacity (I)
360
Gearbox (Nm)
Bonfiglioli 160000

Discharge Belt
Discharge Height (mm)
3400
Width (mm)
800
Included
Over-belt Magnet

Shredding Unit
Hopper volume (m³)
2.25
Shaft length (mm)
1500
Shaft diameter (mm)
680
Weight (kg/cassette)
3800
Rotation Speed (rpm)
11-45